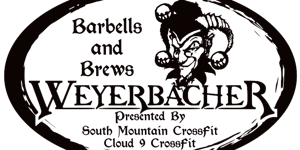 Please join us on Saturday October 24th, 2015 from 12:30pm to 4:30pm for "Barbells and Brews" at Weyerbacher Brewery.  We will be performing the CrossFit benchmark workout "Grace" and some other awesome variations to help raise money for breast cancer awareness. During the day there will also be a quoit tournament inside the brewery, brewery tours and also a strongman keg move competition which are all sponsored by South Mountain CrossFit and Cloud 9 CrossFit.  We will have a food truck available, the best CrossFit DJ of the Lehigh Valley "DJ Dynmaite", thousands of dollars in AWESOME raffles and of course plenty of BEER.
The cost for the event is $40.00 (first option) which will include an American Apparel "2015 Barbells and Brews" t-shirt, 4 beers and 5 raffle tickets and entry into the event for the day.  The second option is for $25.00 which includes entry, 4 beers and 5 raffle tickets. The third option is for $15.00 which includes entry into the event and 5 raffle tickets.  We will have the 2015 "Barbells and Brews" tshirts on sale at the event for $20. Bring cash because we have some AWESOME raffle prizes!!!
*Again Faster equipment packages/Kill Cliff package
*Blue Mountain Season Pass/Tubing passes/Slopeside Grill GC/Ropes Course passes/ Tubing Passes/Pelican Spots GC
*Hand and Stone couples massage package
*Restaurants of the Valley Package
*Get your pamper on Package
*Lululemon Package
*Weyerbacher Package
*Lehigh Valley Adventure Package
*South Mountain CrossFit and Cloud 9 CrossFit 3 month memberships
*Igloo Cryogenics recovery center recovery package
*Emmaus Run Inn and South Mountain Cycle and Cafe wellness package
This event will coincide with Weyerbachers one year release of their "Althea" brew.  For every bottle of Althea sold, Weyerbacher will donate $1 to The Pink Ribbon Fund to help these women – our mothers, daughters, wives, sisters and their families – cover costs like travel, child care, prostheses and more.  This is a limited run beer with an extremely important purpose, Althea is a unique and delicious way for beer lovers to support women in their fight against breast cancer. South Mountain CrossFit and Cloud 9 CrossFit will also be donating $5 of every ticket sold to the Pink Ribbon Fund.
You can pay cash at the door. We hope to see you 12:30 to 4:30 on Saturday at Weyerbacher Brewery!